There is much excitement in the air in the Boshoff household since the doors to our self-catering guesthouse, The Boshoff, are opening soon!
The Beginning is in sight
Years ago Adam and Wanda set their sights on the house next door. It was a simple and very modest little house on a large property with much potential. A true diamond in the rough!
A little over a year ago, without warning, the idea became a reality and The Boshoff was born.
An exciting journey indeed…

The renovations officially began in July 2017 and The Boshoff is almost ready to open its doors. The jouney thus far has been an exciting one indeed, with both ups and down along the way. The ugly duckling is fast becoming a sophisticated swan and we look forward to welcoming our very first guests to enjoy the charm and relaxation it already exudes.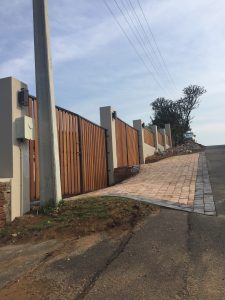 A couple of things still need to be done before our first guests arrive. However, we are confident that it will be soon. We still need to replace a door handle here and a light fitting there, but we are well on track for opening day in mid March 2018.
Accessibility – an all important element
Wanda, one of the owners is a wheelchair bound paraplegic. She understands the challenges and frustrations disabled travellers experience when they book "accessible" accommodation. The knowledge drives her and her family to ultimately offer guests at The Boshoff an establishment focused on universal design.
The Boshoff currently caters for a limited number of disabilities or mobile impairments, including:
Older and Less Mobile Guests
Part Time Wheelchair Users
Independent, physically strong wheelchair users.
It is only the first phase and plans are in place to start with the second phase to make The Boshoff even more accessible. We look forward to seeing even more improvements to offer our guests!
Share your thoughts
Browse through our website or pop in for a visit if you are on the Bluff and share your thoughts. We want your feedback to make our self catering guesthouse and experience worth repeating!
The Boshoff Self Catering Guesthouse is located in 99 Beaumont Road, Bluff, Durban.